Voter Information
★ ★ ★
RESULTS ARE STILL COMING IN:
WE ARE STILL WAITING FOR THE FINAL NUMBERS.
CURRENTLY THE VOTING MACHINE VOTES HAVE BEEN COUNTED, BUT NOT ALL VOTES ARE RECORDED YET. THE BOARD OF ELECTION HAS BEGUN THE ABSENTEE BALLOT COUNTING AND AFFIDAVIT BALLOTS WILL BE COUNTED NEXT. WE SHOULD HAVE THE FINAL COUNT BY THE END OF JULY.
WE WILL UPDATE YOU HERE ASAP!
THANK YOU TO EVERYONE WHO VOLUNTEERED & VOTED IN THIS ELECTION!
UNOFFICIALLY, THIRTY-FIVE OF OUR FIFTY UNITY TEAM MEMBERS HAVE WON ENOUGH VOTES TO REPRESENT OUR COMMUNITY! CONGRATULATIONS!!! WHAT A RACE!!!
★ ★ ★
---
---
---
★ ★ ★
NEW BALLOT REMINDER!
When filling out your ballot it is important to ONLY SELECT ONE candidate per GENDER for District Leader.
If you select TWO female candidates the vote is not counted.
VERY IMPORTANT!
★ ★ ★
---
A sample ballot highlighting my running mates: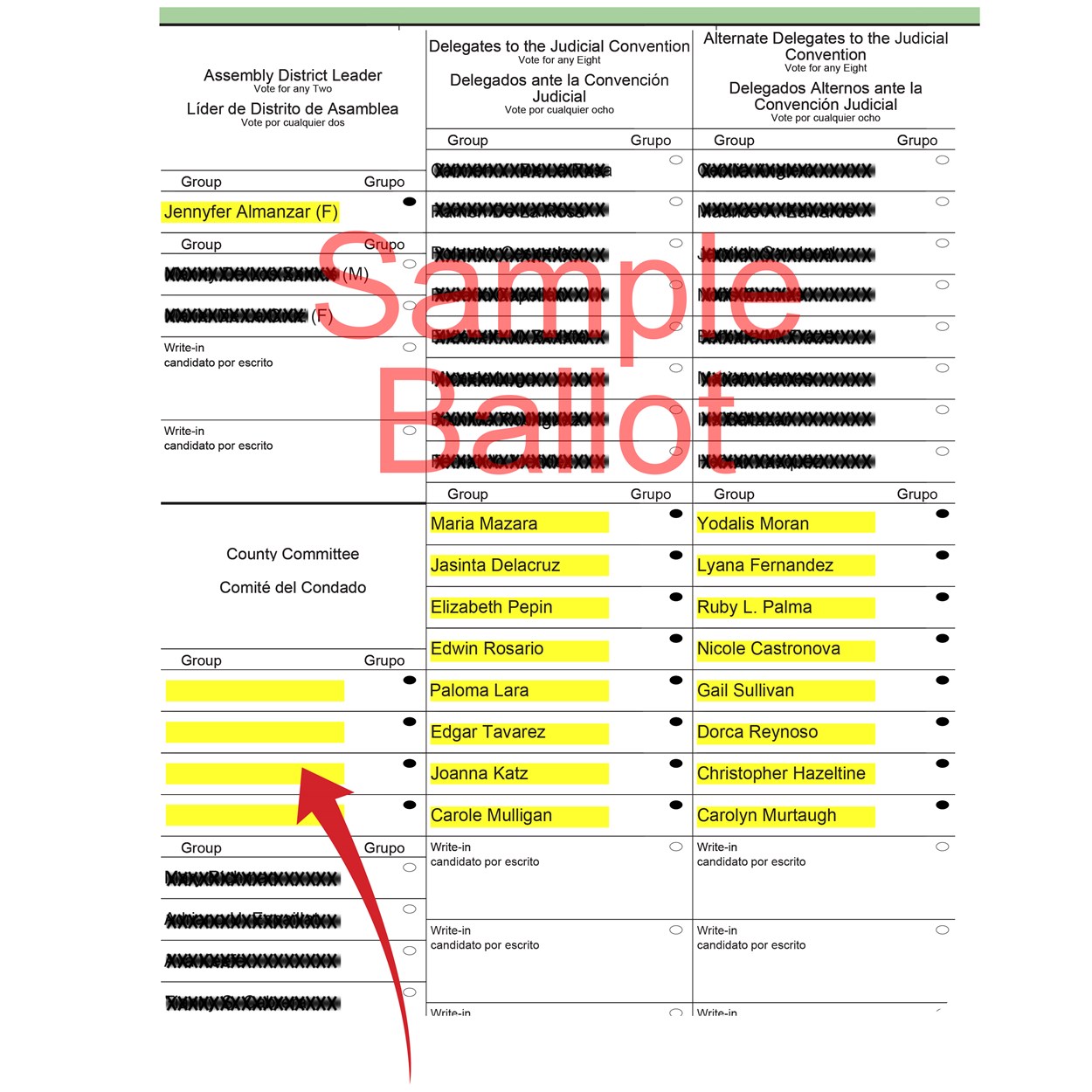 These are the County Committee Candidates I am running with:
Inwood is divided into Electoral Districts. Your Inwood street address belongs to one of the ED's (Electoral Districts) listed below. Depending on your ED, your ballot will display an assortment of these names.
ED 004
Carole Mulligan
Gabrielle Shatan
Cheramie Mondesire
Andrea B Kornbluth
ED 005
Lyana Fernandez
Carolyn Murtaugh
Joanna Katz
James Katz
ED 006
Maria Mazara
Clifford Elkind
Bruce G. McKeown
ED 008
John Higgins
Karla Fisk
Quann Boyd
ED 009
Edwin Rosario
Nicole Castronova (Nik)
Paul Stewart-Stand
ED 010
Sky Pape
Amy May Traub
Taylor Shubert
ED 018
Patricia Anderton (Trish)
Gail Sullivan
ED 019
Dorca Reynoso
Edgar A. Tavarez
ED 021
Marshall Vanderpool
Sean G. Murtaugh
ED 026
Paloma Lara
Yodalis Moran (Yoda)
ED 063
Christopher S. Hazeltine
Jonathan D. Early
ED 064
Tiffany M. Braby
Avatar L. Neal
Rosaria R. Dimaggio
---
WHY VOTE FOR JENNY & HER RUNNING MATES?
The names listed on this page & highlighted on the sample ballot above are all part of a single campaign team in Inwood. We are a diverse collective of your neighbors & friends - fifty strong! Together we pledge to bring positive change to this community. Through engaging with you & everyone in this community we will ensure your voice is heard on the issues that matter the most to you.
Please note: Our voting district has the lowest voter turn out in Manhattan, especially in local elections. Because of low voter turnout our neighborhood receives less from state & local tax dollars! Please plan to vote early, or on election day in the upcoming election.
---
PROUDLY ENDORSED BY: